Spam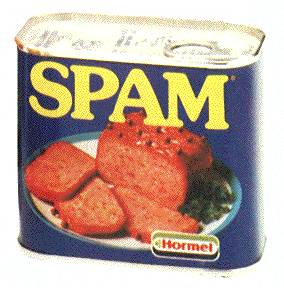 I've been unable to log into my blogger account for the past two days. Sorry for the lack of updates.
I don't know what has happened, but for the last couple of days I've been getting obscene amounts of spam. To my Gmail inbox too! Which is strange 'cause I don't use it anywhere but with friends... someone must be mad at me.
It reminded me of these two classics:
From
bash.com
:
So, guys, I have some news.
I know I usually don't talk much about stuff unless it's solid, but this is interesting, and I think you should know.
I just got an E-mail about an interesting proposition.
* volsung_ perks up.
Apparently, there are lesbians that want my 'hard cock.'
* volsung_ flips Paradox the bird.
:)
They want it 'now,' apparently, so the timetable is somewhat limited.
Are you going to just take their offer as presented, or is there an opportunity for negotiation?
I'm not sure.
I'm sure your hard cock is in great demand. An exclusive deal might not be in your best interest.
Last time I got an offer like this, there were some catches.
From
zug.com
(it's a great article):
I recently received an e-mail from a woman named Lela Jenna, where she made fun of the size of my penis. Even though my penis has never met Ms. Jenna, she still had the audacity to write this:




From: Lela Janna
Sent: Monday, April 26 11:32 PM
Subject: Ur Diicky Is So Smaall chief vibratile freeloader

The world most--effecctive male enhance-ment pi11

Increase the length of your DICCKY by 2-5 full inches

Thicken ur DICCKY and make it much fuller & harder

CLICK HERE TO ORD.ER NOWW!



At first, I was hurt. "What's wrong with the size of my DICCKY?" I thought to myself. "No woman has ever made fun of my length, nor my girth."

"At least, not to your face," added my ruthlessly cruel self-esteem.