Heat Vision and Jack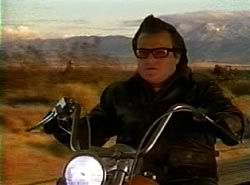 This show
came out in 1999 and I don't think was ever actually aired. Jack Black is a super intelligent renegade astronaut and parodying Night-Rider is Owen Wilson as his talking motorcycle...
It looks totally awesome.
Here
's a fine torrent for
three
one episode split into three parts. The quality is less than shiny, but very watchable.