St. Patrick's Day Love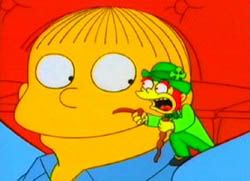 I enjoy this day. Much like Purim, it offers the masses the opportunity to dress like fools and celebrate something we don't completely understand by drinking way too much.
Here's a selection of most festive links:
How Stuff Works have compiled an interesting article on the day and the man who was. Did you know he's most known for driving all the snakes out of Ireland?

To get you in the Irish state of mind you can download Danny Boy and listen to it on repeat until you're confident you can sing it with a few pints of Guiness in ya... (need to change file ending to .mp3). Also - [Lyrics]. Beautiful song.
Fake your very own Irish accent.